George N. Miller Jr. , MSHA, FACHE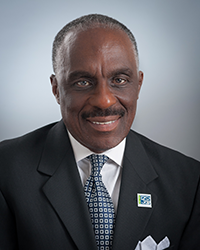 George N. Miller, Jr. is a senior health care executive with over 30 years' experience in health care related administrative and financial management. He has a unique mix of knowledge, leadership, and passion for CommUnityCare's mission and vision.
In 2013, Mr. Miller came to CommUnityCare from Okmulgee Memorial Hospital where he served as Chief Executive Officer in Okmulgee, Oklahoma.
Mr. Miller served as the National President of the National Rural Health Association in 2007, the largest rural trade association in America and the voice of rural healthcare. He has also served on the Board of Directors of the American Hospital Association, the Board of Commissioners for the Joint Commission, the Texas Hospital Association, and the Texas Organization of Rural and Community Hospitals.
Mr. Miller currently serves on the Board of Directors for the Texas Hospital Association/Health Share, Texas Health Institute, and Children's Optimal Health.
Mr. Miller received a Bachelor's degree in Business Administration from Bowling Green State University and a Master's Degree in Health Services Administration from Central Michigan University.