Monica Garcia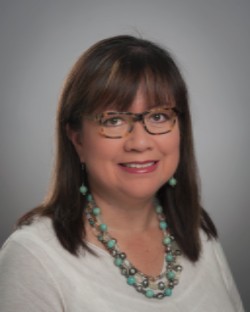 Raised in the West Texas town of Ft. Stockton, Monica Urias Garcia developed early interests in things like art, singing, reading and writing. As a high school senior, Monica was editor of her high school newspaper and held a part-time job at the local newspaper.
Monica majored in Journalism with a concentration in advertising copywriting at The University of North Texas in Denton. She also minored in Art and took classes in drawing and film photography.
Monica's professional background includes working at Dallas ad agencies DBG&H and Claypoole, Burke & Hummel in the late 1980s. During this period, she wrote business-to-business advertising materials for industrial and pharmaceutical clients.
When she went to work for Impulse Telecommunications, a Dallas telecom consulting firm, she ghost wrote trade magazine articles and edited engineers' reports. The book-length reports speculated about options the Federal Communications Commission might take to allow commercial development of a new wireless phone technology generally called personal communications services—today called cell phone service.
She was recruited to work as a writer for public relations firm Walter Bennett Communications in Dallas and wrote magazine feature articles and press releases for various clients, and radio spots to be recorded by Tom Landry, Chuck Yeager and Elizabeth Dole for the firm's biggest client: the Rev. Billy Graham.
Monica moved to Albuquerque, New Mexico in the 1990s and worked for civil engineering firm, Wilson & Company, as its corporate marketing manager for several years. During this period, she was asked to join the Board of the Association for Women in Communications where she served as the database manager and treasurer for over three years.
In 1999, Monica began her nine-year volunteer stint for Animal Humane New Mexico, the state's largest private animal shelter. In 2007, she was nominated to fill the staff position of communications manager at Animal Protection of New Mexico, a nonprofit animal advocacy group that works on animal issues throughout the state.
Monica moved to Austin in 2011 and in the city's high-energy, creative environment, she found her passion for real estate. Today, she is a realtor at the Austin-based head office for Keller Williams Realty.
Monica is honored to be a CommUnityCare board member, where she serves on the Performance Improvement, Nominating and Bylaws & Governance committees.