**COVID-19 testing will not be offered today, January 13 at Burleson Road and Manor Senior High testing sites.**
***Para información en Español haga click en la caja hacia la parte superior y derecha de la pagina que dice "google translate"
For questions about any of our COVID testing sites or COVID-19 in general please call our COVID Hotline at 512-978-8775.
Testing is currently open to anyone with or without symptoms or a potential exposure. 
CUC patients can get tested by their CUC provider during an appointment or at our PATIENT ONLY after hours COVID testing clinics located at Hancock and Southeast Health & Wellness Center Monday-Friday from 4pm-8pm. 
Drive Up Testing Sites & Info (Greater Austin Area)  8:30am-4:30pm 
Monday-Saturday-Hancock Clinic Parking Lot-1000 E 41st, Austin, TX

Monday-Saturday-Burleson Road Testing Site-7019 Burleson Road, bldg., 1, Austin, TX 
All Eastern Travis County Sites below are open from 8:30am-4:30pm
Monday, Wednesday, Friday, Hornsby Bend Health Center, 14312 Hunters Bend Road, Austin, TX 78725

This site requires you to call ahead for an arrival time. Please call 512-978-8881.

Monday, Friday – Turner Roberts Recreation Center, 7201 Colony Loop Dr, Austin, TX 78724 (at Gym)

Wednesday – Manor Senior High, 14832 FM 973, Manor, TX 78653
Things to Know:
No appointment or Dr referral is needed.

Testing is done in your vehicle or walk ups are also accepted.

Testing is free if uninsured, if you have insurance we will bill your insurance directly. 

You can call our COVID-19 hotline at 512-978-8775 for more information. 
Your health is our top priority, and we appreciate the trust you place in us. As the number of cases of coronavirus (COVID-19) is holding steady in Austin and Travis County and across the U.S., we're working hard to prevent the spread of the virus and to protect our patients, our employees, and the communities we serve. 
See map of testing locations below. 
---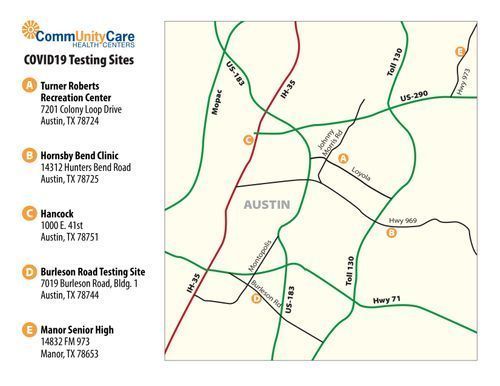 ---
To stay healthy, it's important to stay informed.
What if I think I might have COVID-19?
If you're experiencing cold and cough symptoms, fever, shortness of breath, fatigue or muscle pain, loss of taste or smell, diarrhea, headaches or chills, or you think you've been exposed to COVID-19, staying home and in isolation is the best way to protect yourself and others from exposure.
What if I am sick:
If you are sick, stay home and call our COVID-19 Hotline (512) 978-8775 and our care team member will review your symptoms and determine if further face-to-face medical evaluation is needed. If medical evaluation is needed, the care team member will refer you to one of our sites for further evaluation and/or testing. 
Care by Phone or In Person
You now can get care without leaving the comfort of your home — through a phone appointment. This allows you to still get great care while helping to address the community spread of COVID-19.
Please call (512) 978-9015 to schedule a phone visit with your doctor or clinician. If you do need to come in, we're here for you — and we're taking every precaution to keep our facilities safe including screening every patient/visitor entering our clinics for symptoms including a temperature reading.
If you already have an appointment, one of our team members will be reaching out to let you know if your visit will occur over the phone.  If we have your cell phone you should have already received a text message. If you haven't heard from us yet and need to discuss you upcoming appointment call (512) 978-9015.
---
Patient Education