Dental Health Services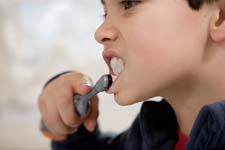 CommUnityCare provides dental coverage to people who are MAP (Medical Assistance Program) card holders, Managed Care Patients, Medicaid patients under the age of 18, or a Medicare beneficiary who is a patient at one of our CommUnityCare health centers. Emergency dentistry and some other services are also available for self-pay patients of our CommUnityCare health center system who meet established income guidelines and have no other dental insurance benefits.
Our services include dental exams, teeth cleaning, fillings, extractions, dentures, dental sealants, and emergency treatment. We do not provide orthodontics (braces), implants, crowns or bridges. Dental health exams are also offered for infants as young as one year of age as part of the child's well medical check up. This noninvasive "peek" at the infant's oral structure aids in the early detection of possible dental health problems.
CommUnityCare also operates the School Based Sealant Program for Austin Independent School District Title 1 schools. Through this initiative, participating second graders receive a dental exam followed by the application of a decay preventive sealant to new permanent teeth.
List of Dental Services Locations: